Mohawk E101 42. Sub-average Tanker
https://console.worldoftanks.com/en/stats/players/2838787/
I joined the pigs on a warm December morning, back in 2016.
My number of wins and losses in the game is even (because I believe in balance).
Most of my tanks are made of sexy German craftsmanship and in each one of them I carry 4 supplies (tools, first aid, chocolates and a bag of "chips" for Jeff).
WoTC may have terrible matchmaking and WTF updates, but none of that matters when I'm with my pigs, I owe all of them for long hours of fun and laughter.
And about my favorite tank? Well…
Just remember what ol' Mohawk does in his Löwe when the earth quakes, and the premium shells fall from the sky, and the pillars of heaven shake. Yeah, Mohawk just looks that big ol' Tier X right square in the eye and says, "Give me your best shot, pal. I can take it".
What is Löwe?
Oh baby, don't hurt me
Don't hurt me
No more
Whoa, whoa, whoa, whoa, whoa, whoa, oh, oh
Whoa, whoa, whoa, whoa, whoa, whoa, oh, oh
I don't know, what can I do?
What else can I say? It's up to you
I know we're one, just me and you
I can't go on
What is Löwe?
Oh baby, don't hurt me
Don't hurt me
No more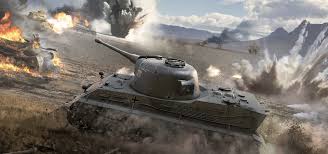 Side note: -Combat (1977). Atari 2600- Best matchmaking ever!
Pork Chop Platoon is an older gamer community for the Xbox console.